Ensure that this Father's Day is pleasant,
by buying your dad a present!
What about a chocolate selection box,
or some much appreciated socks!
Personalised mens bracelet
Buy here on Amazon now for just £8.99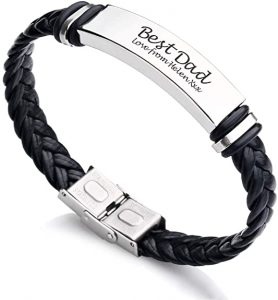 This is the perfect personal gift for your dad this Father's Day! At just £8.99 for a customised bracelet, you can't go wrong! Your dad will appreciate this gift every day when he sees the message you have engraved on it. Buy here now!
Chocolate selection box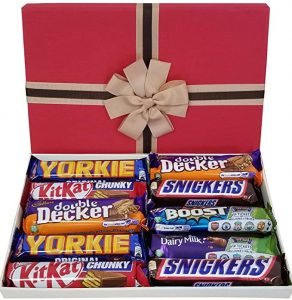 Does your dad love chocolate? Whose doesn't? This chocolate selection box contains 10 chocolate bars from a Double Decker to a Yorkie! Your dad will be satisfied for the whole week… or day! Buy here now!
Father's Day gift coffee box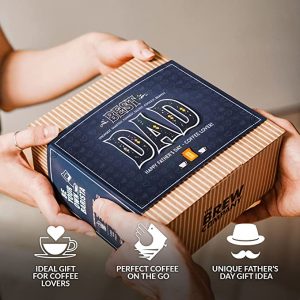 This one is for coffee lovers! If your dad loves coffee this is a great gift to get him for Father's Day. He will receive a selection of some of the world's finest specialty coffees, which are also organic! Buy here now!
Dad I wrote a book about you!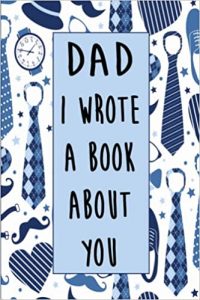 This fill-in-the-blanks book with prompts about what you love about dad is a fantastic present for Father's Day! Get your little ones to fill in the gaps with prompts such as, "dad is really good at" and "my daddy always says". He will love it! Buy here now!
Pack of 6 mens best dad designer cotton rich socks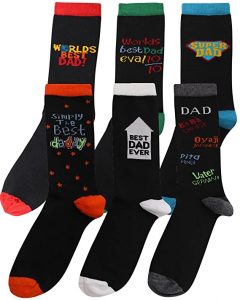 Every dad loves a new pair of socks! Update his wardrobe this Father's Day with some super cool 'best dad ever' socks! At just £11.95 for 6, packed in a bag with the message 'to the world you are one person, but to one person you are the world', this is a great present! Buy here now!
Personalised golf bag with tees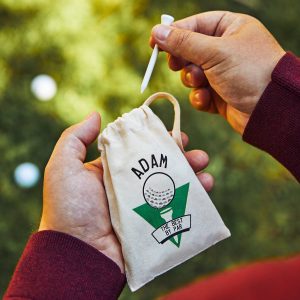 For all the golf dads out there these tees will go down a treat! Personalise your own bag with their name and dad will be showing all his golf friends your amazing present! Buy here now!
Personalised stainless steel bbq flipper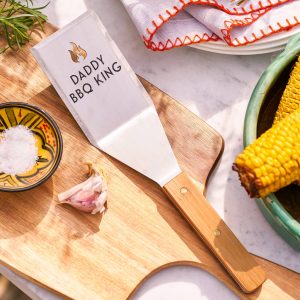 Let your dad cook in style with his very own personalised bbq flipper! This is a perfect gift for this time of year with all those bbq summer evenings to come! Buy here now!
Personalised leather tri fold wallet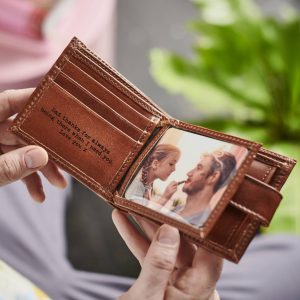 This present is slightly more expensive at £55 but definitely worth it. The classic buffalo leather tri-fold wallet is handmade and a lovely gift for your dad this Father's Day. You can also personalise the wallet with an appropriate message inside! Buy here now.   
Scribble writing alarm clock
This scribble writing alarm clock is an amazingly useful present for Father's Day. Write down notes and reminders for the next day, such as your train time so that you'll never miss the train again! The screen lights up in the morning when the alarm sounds and you can choose form 4 different alarmsounds! Buy here now!
Arm chair caddy
Forget endlessly searching for the remote, your glasses or your phone. This arm chair caddy can solve all these problme, allowing you to enjoy your favourite searies and a cup of tea! There are several sized pockets for all the things your dad will need and at just £9.99 you can't go wrong! Buy here now!
What have you been up to? We'd really love to know! Someone else might love it, and really want to go! If you've got ideas, suggestions or reviews, you can shout all about it on whatever channel you choose!
Let's go on a Picniq! Follow us on Facebook, Twitter or tag us on Instagram using #PicniqUK! ❤