There are a number of places all over the UK where you can see dazzling displays of snowdrops. Pull on your wellies, wrap up warm and explore frosty landscapes on a snowdrop walk. From stunning bulb meadows to Britain's largest winter garden, here are the best places to enjoy a family day out surrounded by white.
Snowdrop Days, Bodnant Garden, Conwy
19 – 26 February, 1pm – 2pm
Take a trip to Bodnant Garden's Old Park Meadow this half-term to find a sea of snowdrops out in full bloom. For several years National Trust gardeners, volunteers and visitors have been planting thousands of extra bulbs every year and they don't plan to stop there. Join the team again to help plant an extra 20,000. After all that hard work you can reward yourselves with a tasty treat and a mug of hot chocolate from the tea room. Find out more.
Angelesey Abbey, Gardens and Lode Mill, Cambridgeshire
At Anglesey Garden there are 320 different varieties of snowdrops for the family to see (including 20 that were discovered at Anglesey) scattered across 114 acres. You can meander along the paths and soak up the fabulous display of delicate white bulbs dotted around the gardens. Find out more.
The Argory, County Armargh
The stunning estate at The Argory has a spectacular display of snowdrops and other beautiful spring bulbs throughout February. The children can enjoy a walk and also let off some steam in the adventure playground. Find out more.
Attingham Park, Shropshire
You will discover swathes of snowdrops carpeting the woodland floor at Attingham Park this winter. The family can stroll around the beautiful parkland where you might see deer and other wildlife when you're making your way around. Find out more.
Chirk Castle, Wrexham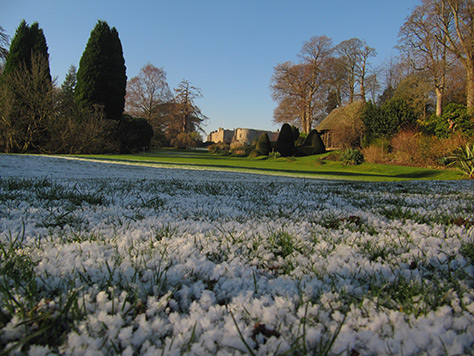 Wrap up warm and visit the winter gardens around this spectacular castle. There are a number of walks around the gardens and woodland that surround the medieval fortress. You can see a carpet of snowdrops in the Pleasure Garden Wood and whilst you're there you can pop into the Woodsman's hut and warm up around the fire. Find out more.
Dunham Massey, Cheshire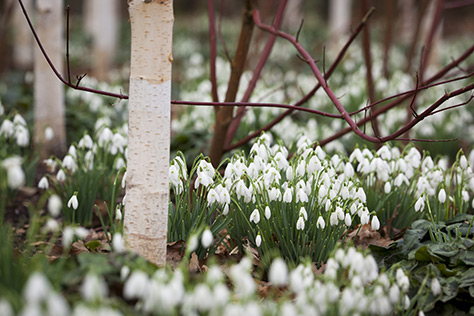 The elegant winter gardens at Dunham Massey are the largest of its kind in the UK and have over 700 different plant species, 1,600 shrubs and 200,000 snowdrop bulbs. The garden erupts into a carpet of white from late December until early February. Find out more.
Fountains Abbey and Studley Royal, North Yorkshire
The ruins at Fountains Abbey are always a spectacular sight, but right now the landscaped Georgian water gardens and the carpets of snowdrops are breath-taking. There's also over 800 acres of parkland that the family can explore, full of hidden walks to enjoy. Find out more.
Kingston Lacy, Dorset
The gardens at Kingston Lacy wake up in January and February when thousands of bulbs burst through the soil and transform the garden into a sea of white. If you're after a walk there are 72 miles of footpaths that to explored too. Find ot more.
Mottisfont, Hampshire
At this time of year you will find that the banks of the Font stream, bursts into life with beautiful displays of snowdrops and you will also find the river garden which is magically transformed by drifts of purest white. Find out more.
Nymans, West Sussex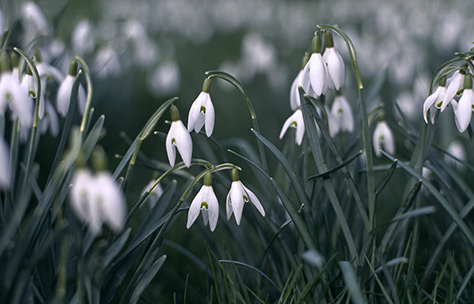 Nymans is famous for its amazing collection of rare and important plants. At this time of year you will be able to see a wonderful display of snowdrops, as well as camellias, magnolias and daffodils.  There are a number of activities on offer in the gardens including the chance to make dens in the Den Making Area and playing on the balance beams. Find out more.
Rode Hall & Gardens, Cheshire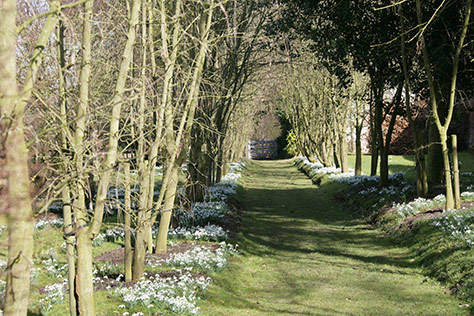 Embrace the start of spring with a beautiful walk in the stunning gardens and park of Rode Hall, and you are sure to have a a great family day out. There are varying lengths of walks depending on your preference, amongst a blanket of over 70 varieties of snowdrops. Look out for the 200 year old grotto which is hidden away in the Wild Garden, and spot heron down by the lake. Find out more.
Wallington, Northumberland
Visit this impressive house and gardens to see the courtyard and the also tranquil East Woods that are full of drifts of snowdrops. You can also see a variety of Jasmine, Begonia and Clerodendrum in the beautiful Edwardian Conservatory. Keep an eye out for the friendly robin who likes to make an appearance. Find out more.
Have you been on any beautiful walks this year? Let us know by sharing on Facebook, Twitter and by tagging us on Instagram too! 🙂