As Christmas is rapidly approaching, why not make giving cards to family and friends easier by letting your little budding artists have a go at these super easy (but super cute!) fingerprint christmas light cards? That fact that they're handmade gives them that all important personal touch too!
Here's what you'll need:
Card of your choice
A selection of paints (red, yellow, green and blue work best, but don't let your imagination stop here!)
A black felt pen
A washing up bowl with water / wet wipes
Optional – glitter for extra sparkle!
Start by simply folding your chosen card in half horizontally. Then, draw a squiggly line from one end of the card to the other to mimic the christmas light's wire. You can then determine where you'd like your lights to sit!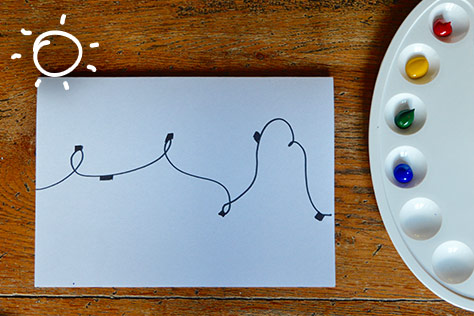 Make sure you've got your chosen paints at the ready. I find that either little tubs or a painting tray with different colours in is the best way to go to avoid messy tubes of paint!
Dip your thumb into the first colour and press the paint onto your card.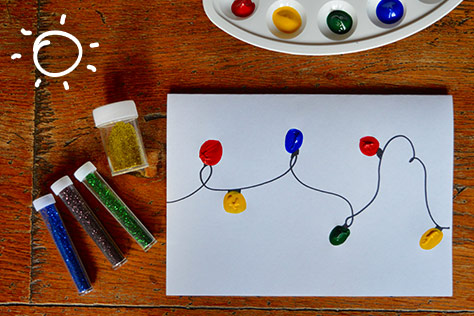 Repeat this, whilst alternating your colours, until the wire has a complete set of lights. Make sure to wash or wipe your thumb after each light to make sure the colours don't mix!
If you want to make your twinkling Christmas lights extra glitzy, add a sprinkle or two of coloured glitter into the centre of each light.
Write (or paint!) a season greeting underneath the wire for the perfect Christmas card. I've also added a sprig of holly for an extra festive touch!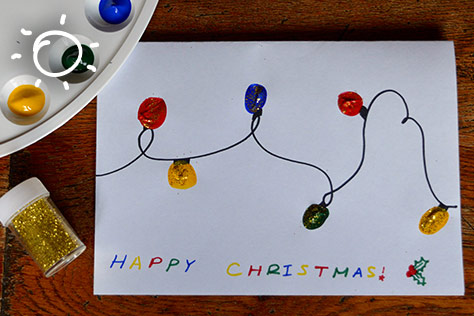 And voila! Simply wait for your card to dry before presenting or sending your card to your lucky recipients!
Have you got any easy to make but super effective Christmas card ideas? Share them on Facebook, Twitter and by tagging us on Instagram too! 🙂