I have very excited children absolutely buzzing for the eagerly anticipated release of Pixar's Finding Dory on Friday! It seems like an absolute age ago that I was watching Finding Nemo in the cinema (almost 13 years ago to be exact) however the film still remains as a firm family favourite in our house. So, to celebrate the release of Finding Dory, why not head out this school holidays to find the real Dory, Nemo and all their friends at brilliant attractions all around the UK!
Sea Life Sanctuary – Hunstanton, Norfolk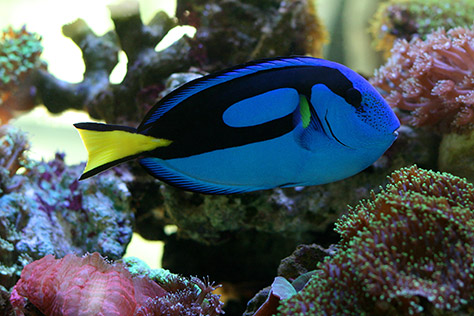 The newly three million pound refurbished Hunstanton SEA LIFE sanctuary has lots of new attractions to offer visitors and there is plenty going on for the release of Finding Dory. You can watch seals in the underwater seal viewing area, see up close a range of fascinating rays, watch otters happily playing together and you can explore the Amazonia. And from now until September, learn all about blue tangs (Dory) and clownfish (Nemo) through an interactive trail discovering loads of interesting facts as you go!  Find out more.
Sea Life Centre – Great Yarmouth, Norfolk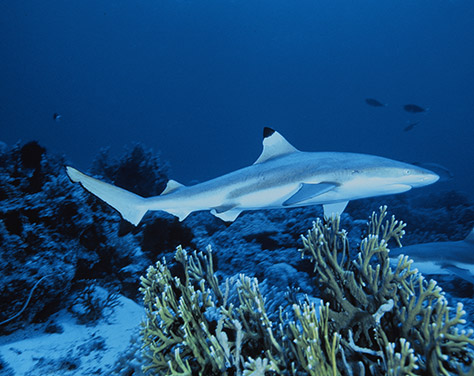 Perfect for the little ones with lots of indoor attractions, there are over a thousand sea creatures including octopus, sharks, crocodiles, rays and of course Dory with her friends!  The kids will love handling a variety of creatures in the rock pools and learning during the fun talks and feed shows throughout the day. Find out more. 
ZSL London Zoo
**Save Up To 15% Off Tickets**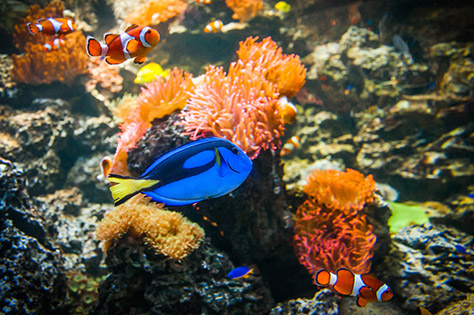 For a seriously wild day out, there is so much for all the family to do at London Zoo! As well as seeing some simply stunning animals which include gorillas, tigers, penguins, tortoises, giraffe, hippos and okapis, to name a few! There are also creepy crawlies galore with locusts, honeybees and plus for the really brave, there is the walk through spider exhibition – 'In With The Spiders'! No visit would be complete without a visit to the Aquarium which has been at the zoo since 1853 and is home to beautiful, exotic (and some weird) fish including blue tangs and clownfish commonly known as Dory and Nemo! Find out more.
Oceanarium – Bournemouth, Dorset
Head to the seafront in Bournemouth and you'll spot the brilliant Oceanarium which is home to the very cute Nemo. Don't miss the dark abyss section and the seriously cool underwater tunnel where the magnificent fish swim round you. With over 150 different species of fish, from sharks to stingrays, you will be learning something new the whole way round! Find out more.
Deep Sea World – Fife, Scotland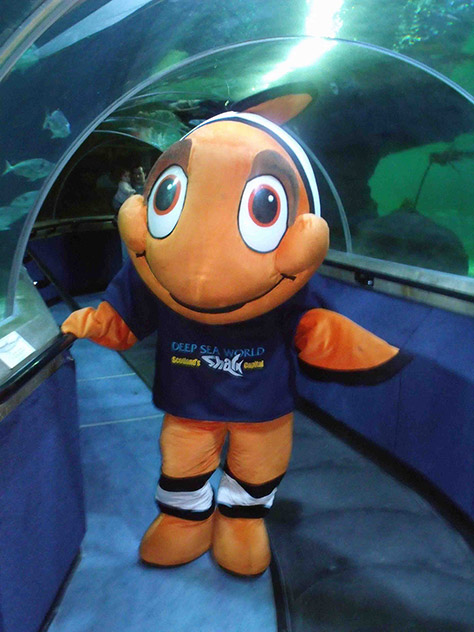 As well as getting to say 'hello' to Dory and Nemo, the kid's will love learning about the wonders of our oceans, rivers and lakes from around the world at this superb aquarium. Visit the Underwater Safari which at over 112 metres, is home to some amazing animals including the Sand Tiger shark. The Amazon exhibit transports you to a colourful tropical world, where you'll see the likes of catfish and electric eels. Find out more.
 Aquarium at World Museum Liverpool
Kids will love this free entry aquarium at the World Museum Liverpool where they will see fish from all over the world! From tropical fish such as clownfish (Nemo) and scorpion fish, to native fish from right here in the UK. This is just one part of the fantastic World Museum where you will also find a planetarium, bug house, a theatre and much more! Find out more.
SEA LIFE – London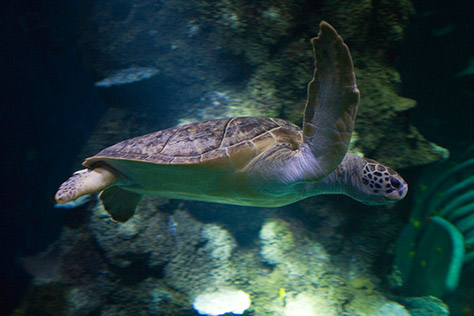 Explore a fascinating aquatic world and discover some wonderful creatures at SEA LIFE London! Go in search of Nemo and Dory and learn all about the rare and endangered creatures that are looked after at the aquarium. And due to the release of Finding Dory in the cinema, this summer you'll be able to get involved with the very special trail to earn an exclusive Finding Dory reward whilst learning all about the real life versions of the lovable characters. Find out more.
 Matlock Bath Aquarium & Exhibitions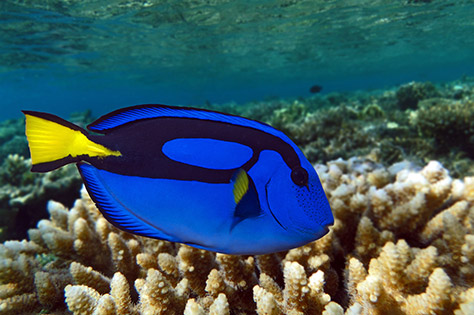 This aquarium is in a beautiful Victorian building and is host to a collection of very unique attractions to entertain all the family. You will find over 50 species of fish so keep your eyes peeled for Nemo and Dory, as well as terrapins and meat eating tiger fish! Find out more.
 The Deep – Hull, Humberside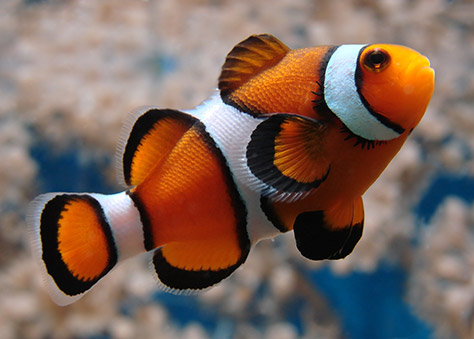 Visit this fantastic award winning aquarium which is home to a staggering 3,500 fish including sharks, rays, Gentoo penguins and of course Dory and Nemo! During your visit you will embark on a journey through the world's great oceans from tropical to Antarctic seas. Walk through a glass tunnel to watch marine life swimming around you, and watch the super cute Gentoo penguins being fed. Find out more.
Bristol Aquarium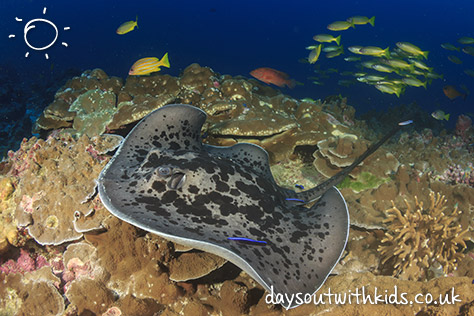 Bristol Aquarium is a fascinating place to visit with the family where you will discover a truly fascinating underwater world! During your adventure in the Coral Sea, you'll find pufferfish, Bamboo Cat Shark, and don't forget to keep your eyes peeled for Dory and Nemo too! Head to the bay of rays where you can spot several species of stingray, and take a trip through the Amazon too! This aquarium also features a botanical house where you can meet giant African snails! Find out more.
The National Sea Life Centre – Birmingham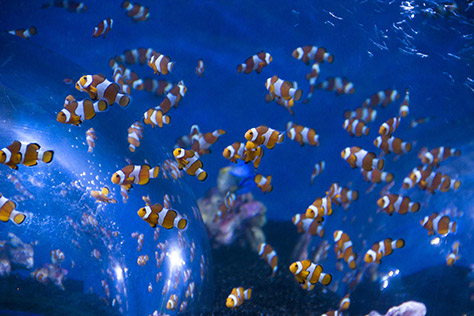 Perfect for the little ones with lots of indoor attractions, there are plenty of weird and wonderful sea creatures including sharks, jellyfish, turtles and clownfish!  The children will love handling a variety of creatures in the rock pools and learning during the fun talks and feed shows throughout the day as well as taking a stroll through the ocean tunnel. Find out more.

Paultons Park – Romsey, Hampshire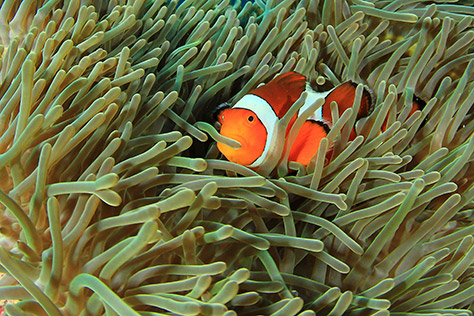 Of course your little ones will be super excited to visit Peppa Pig as well as enjoy all fun rides, an indoor soft play area, and you can even visit Peppa's house! However did you know that Dory and her friends are hiding in Critter Creek? Head over there to say hello as well as checking out the other creepy crawlies and reptiles that she lives with! Find out more.
I hope you enjoy these Dory and Nemo spotting locations and if you get to say 'Hi' to them don't forget to share a photo with us on Facebook, Twitter and Instagram! 🙂