Every year there are more and more festivals being arranged with families in mind. They really think about everything with baby changing areas, milk warming facilities and children's loos. We have found so many exciting festivals and here are just a few to inspire you.
Just So Festival, 21st-23rd August, Cheshire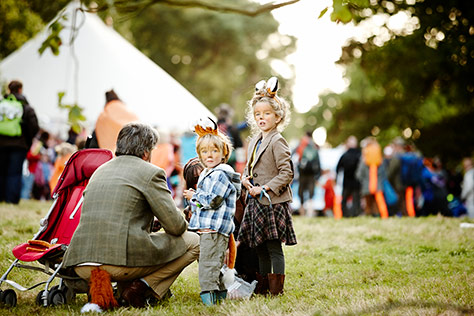 This smaller (5,000 capacity) festival has won many awards for being extremely family friendly. They offer a safe and relaxed festival with a packed schedule of activities for all the family. Over the weekend in the woodland setting there will be wild gypsy music, appearances by authors and poets, workshops and storytelling. Facilities at the festival include child friendly loos, baby changing facilities, a breast feeding boudoir and even a bath time tent.
From Adult £110, Child £50, Under 3's Free
Click here for more information
Chilled in a Field, Halland, East Sussex, 31st July – 2nd August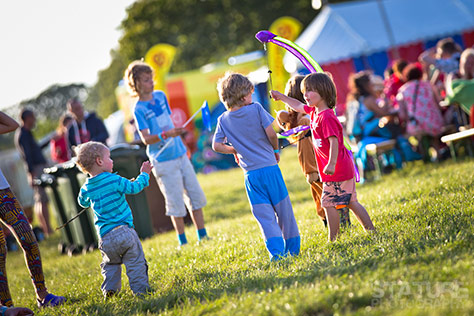 This superb festival has lots to offer families looking for a weekend of fun. They have a play together ethos and offer many free daytime activities for all the family. Expect circus flair, shimmering baubles, nature walks, science experiments and much, much more. There will be live bands playing throughout the day, a dance floor at night and even a late night silent disco rave. For early birds and families there's a camping area just for you, plus there are great family facilities such as family-only toilets, early children's breakfasts, large play tent and a bed-time tent for sleepy little ones.
Weekend tickets from: Adult £74.50, Teenagers £30 & Under 12's £20
Click here for more information
Deer Shed Festival, North Yorkshire, 24th – 26th July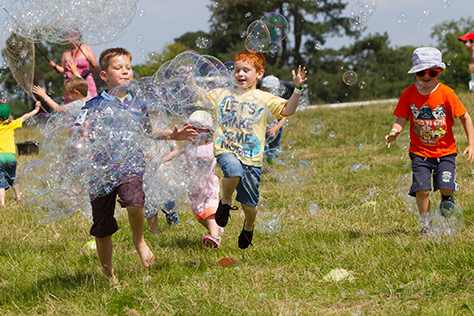 This independent festival is run by a family for families. There is going to be a weekend of superb music, food and entertainment for all to enjoy. Science is going to be a major feature this year, so there's going to be a whole host of science related activities and workshops. The kids will love the eight tonnes of play sand, the sports field, cardboard city, soft play and the 40 workshops that will be on offer over the weekend.  For the smaller festival goers there are milk warming facilities and highchairs, plus the family will enjoy the 50 beautiful acres of camping space available.
Weekend tickets from: Adult £129, 6-15 years £35, 3-5 years £5 &  0-2 years free.
Click here for more information
The Cornbury Music Festival, Oxfordshire, 10th – 12th July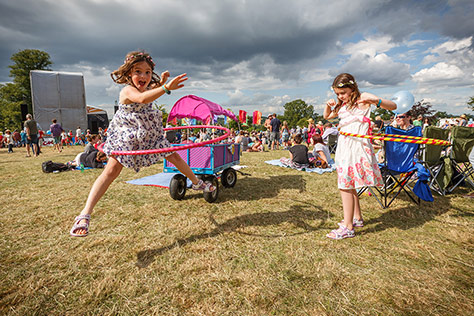 This eclectic music festival has the feel of a country fair. There's a packed schedule of family friendly entertainment throughout the weekend with music across four stages, a comedy tent and a children's area with workshops. Facilities wise there's going to be a quieter campsite for families away from the entertainment with showers and toilets available.
Weekend Tickets Cost: Adult £200, Young Person £85, Child (3-12) £35
Click here for more information 
Larmer Tree Festival, Wiltshire, 15th – 19th July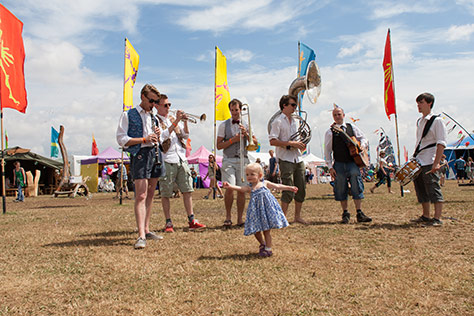 This year Larmer Tree festival is celebrating its 25th birthday and there's going to be entertainment for all the family including Sir Tom Jones who will be opening the festival on the Wednesday night! There's a 'Youth Zone' for older children and for children under 11, there's a 'Children's Area' with a huge range of exciting activities and workshops. There's even baby yoga and music sessions for the under 5's! The campsite will have free hot showers, ample water points, a café, shops and 24-hr security. If tired little legs don't fancy the walk you can hop on The Larmer Express that runs between the camping and the main site.
There are 3, 4, 5 and holiday ticket available starting from Adult £174, Youth £113 & Child £63
Click here for more information
Camp Bestival, Lulworth, Dorset, 30th July – 2nd August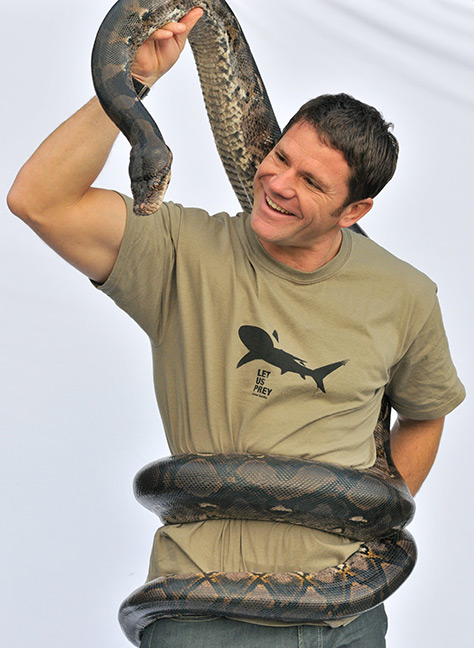 This festival is renowned as one of the best around! Claire was lucky to go last year read her review here. This year the festival is going wild, with Steve Backshall, Michealea Stracham and Bill Oddie making appearances throughout the weekend. Activities include the National Trust's '50 Things Meadow', Eden Project's 'The Beast of Besti' and much, much more. Music fans will enjoy the stellar line-up which includes Underworld, EllaHenderson, Clean Bandit and The Kaiser Chiefs. For 13 – 17 year olds there's 'The Den' a festival area that's just for them, plus there's going to be a huge selection of facilities and activities for children of all ages.There's even 'The Hideaway' a wellness and treatment spa!!
From: Adult £205.50, 15-17 years £120.50, 11-14 years £94.50, 5-10 years £22, 4 & Under Free
Click here for more information
Standon Calling, Standon, Hertfordshire, 31st July-2nd August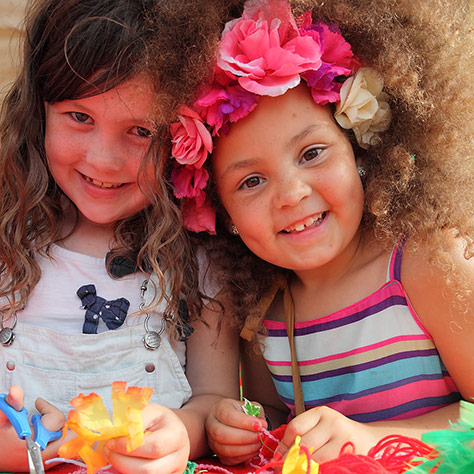 Standon Calling has a whole programme of activities for families. Children of all ages are catered for, with an area for teenagers called Teenage Kicks, activities for babies including baby yoga in the Baby and Toddler Garden and there's many more planned. There's a great selection of music acts that the family will enjoy including Basement Jaxx, The Dandy Warhols and The Horrors. You can watch the performances from a special family area that has views of the main stage. There will be loos and showers at the camping site and in the Baby and Toddler Garden there's a changing, sleeping and bathing area for the little ones.
From Aged 13+ £134.62, 4-12 years, £21.20, 0-3 years £5.95
Click here for more information
BoomTown, Winchester, 13th – 17th August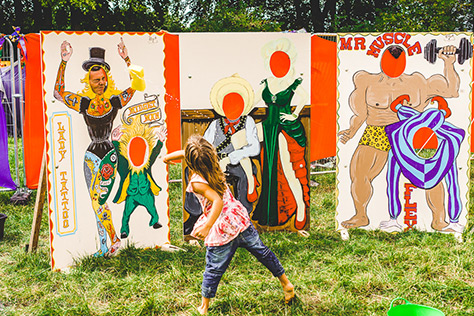 BoomTown will have a whole area for families called 'KidzTown' with activities for all ages, from toddlers to teenagers, plus its very own stage. There will be workshops, soft play, chill out areas and lots of interactive learning activities. The kids will love the Emergency Exit Carnival Float and Horace the Traveling Pilosaur Cinema- a 35ft marine reptile with a walk in cinematic belly! In the main area of the festival there's a full line-up of music, theatre, activities and workshops for the family to enjoy. Family facilities will include a baby changing area, breast feeding area, milk warming, an area for parents to relax, family camping and family parking.
Family Weekend tickets from: (2x adult ticket + family parking) £270, 0-5 years Free, 6-12 years £20 & 13-17 years £120.
Click here for more information
Green Man, Powys, 20th-23rd August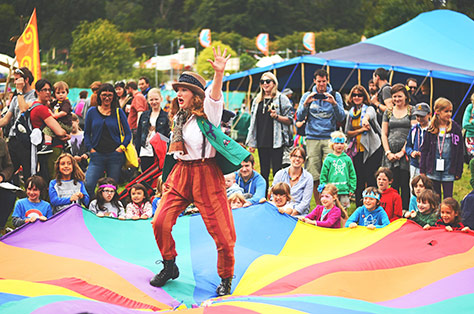 This laid back festival is located in the beautiful Brecon Beacons and offers a relaxing atmosphere for all who attend.  For families there's the Little Folk Area where over the weekend there will be activities and workshops to keep the kids more than entertained. All the family will enjoy the eclectic choice of music, plus there's excellent family camping facilities that include hot showers, toilets and fresh water taps.
From: Adult £165, 13-17 years, 5 – 12 years £15, 4 & under Free
Click here for more information
The Big Feastival, Cotswolds, 28th-30th August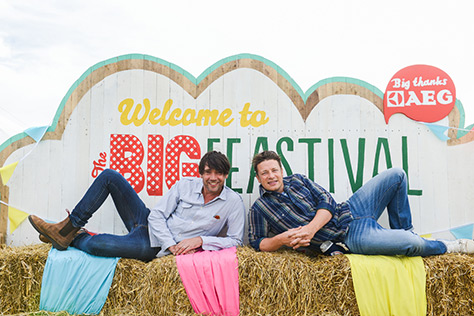 This festival is a celebration of music and is presented by Jamie Oliver and Alex James. For the kids there's the Little Dudes Den where throughout the festival there's going to be face painting, storytelling, dance lessons and even a Little Dudes' Shopping Village. The music line-up includes acts such as Paloma Faith, Groove Armada and Norman Jay. Plus watch top chefs, including Jamie, cook up a storm.
Weekend camping from: Adult £154.50, 13 – 17 years £79.50, Under 12's £20
Click here for more information
Womad Festival, Malmesbury, Wiltshire, 24th – 26th July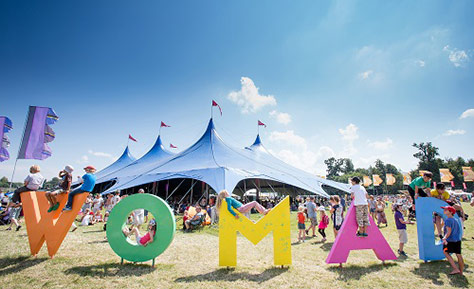 Womad is a festival that celebrates cultures from all around the world. You can visit one of the many stages to hear music from different countries, try some yoga, drum your heart out or listen to inspiring stories. There's even a spa and fancy ladies loos! What's great about this festival is that children under the age of 13 go free!
Weekend tickets from: Adult £165, 14 – 17 years £80, 13 & under Free
Click here for more information
Are you visiting any festivals this year? Let us know!