Sometimes here at Days Out With Kids, we are lucky enough to leave our desks and be invited to special events and product trials to give our opinions and create reviews!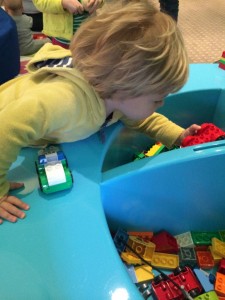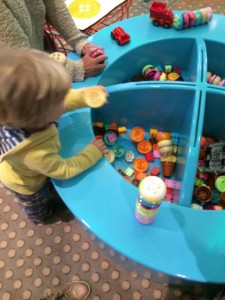 Here's what went on behind the scenes when we were invited to attend a Duplo World of Play Event , #Duplowop @LegolandWindsor to trial and review the latest Duplo ranges.
When we arrived  the children were excited to see a room full of busy people……other reviewers, photographers, face painters and of course lots of LEGO DUPLO products at the specially created 'testing stations'. After much wandering and 'wowing' at the professionally created Lego and Duplo models, we settled down to the task in hand…..playing with the DUPLO!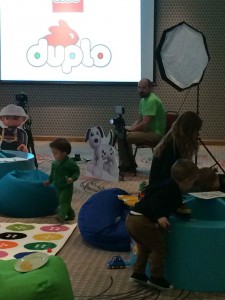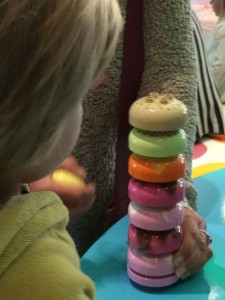 I remember using DUPLO as a child (do you?!), but I don't remember it like this…! As well as the traditional bricks there are so many themed sets to capture their imaginations! Pirates, princesses and cars were just a few of the sets we trialled.
Our  immediate favourites were the Duplo ice creams and we soon had an ice-cream parlour set up making the 'tallest ice creams in the world'! We had a whole group involved and it was lovely to see children who didn't even know each other creating games and role playing together.
The children enjoyed having their faces painted and we were all amazed at the gizmo which turned the Duplo model that the children had made into an image on a giant TV screen that moved around, or in the case of the ice-creams……melted!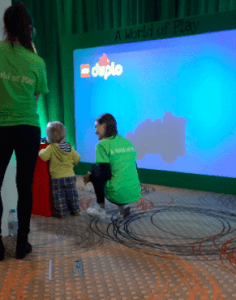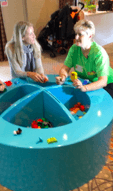 Whilst the children were playing, the 'grown ups'  took part in the 'serious' bit; interviews with Baby World Editor Debbie Bird. We were asked questions about how well our children were interacting with the Duplo , what they enjoyed most and our own memories of Duplo as youngsters! There were cameras and microphones pointed at us throughout all this which did take a bit of getting used too!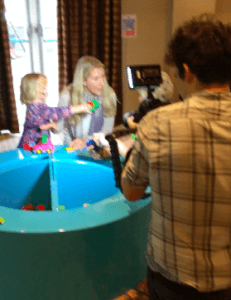 One of my small people decided that the middle of one of these interviews was an ideal time to come and ask me to go to the toilet, so I spent part of the interview trying to keep her quiet and under control, whilst still talking to and smiling at the camera!!
The whole event was filmed and photographed and there were adults at each Duplo Station talking with the children, helping them and of course, finding out what they thought! I also ran about with my camera taking pic's and notes in order to help me write this blog!
Once the 'formal' bits were complete we did a bit more toy testing  and were treated to a buffet lunch!
After that, even though we were all a bit too tired we went into Legoland Windsor itself and had great fun in Duplo Valley and on some of the toddler rides! (Although, we soon had an enforced rest as one of the rides were on broke down! Luckily quickly sorted out as we were 15ft high!!)

It was a great day and a good chance to 'properly' play with a never-ending supply of Duplo. The children seemed to enjoy every moment and created endless towers, buildings and models. It certainly proves that Duplo can to keep little hands and minds occupied! (For quite long periods as it turned out!)
Offering a world of play, LEGO DUPLO toys stimulate creativity, encourage role play and conversation, and help towards developing motor skills in pre-school boys and girls aged 18 months to 5 years.  Colourful, safe and sturdy LEGO DUPLO is designed for small hands and big imaginations.