Get the most out of your tickets with our Disneyland® Paris travel tips guide.
Disneyland® Paris tickets for Marvel Summer of Super Heroes are now available here.
Travel times from the UK
There are lots of different ways to get to Disneyland® Paris, we have an overview of travel times using the most popular modes of transport from the UK.
Booking Train Tickets
Disneyland® Paris is located right beside the Marne-la-Vallée/Chessy station. The station can be accessed on a direct train from CDG airport. There are two types of trains, although both direct trains one of them bypasses Paris entirely and gets to Disneyland® Paris in just 10 minutes! The slower train can take up to 50 minutes, so if you can get a good deal on the high speed train then that is highly advisable for more time in the park.
Presenting Tickets
When arriving at the gates of Disneyland® Paris they will need to scan your ticket, so be sure to have the ticket printed as it will not be scanned from a phone or tablet. If you have already arrived at the park then you can use the customer service desk called 'Donald's Desk' located to the right of the park entrance.
Pushchair and wheelchair rental
Pushchair and Wheelchair rental is available just inside the entrance of the park by the entrance at Town Square Terrace, and at Walt Disney Studios® Park near Studio Services. A Cast Member (Disney employee) will inform you of the rental conditions and price.
Standard FASTPASS® Explained
Make sure you know how your Standard FASTPASS® works before your visit so you can use it to its full potential!
Using Standard FASTPASS®
If are looking to enjoy the biggest rides in Disneyland® Paris then using your Standard FASTPASS® effectively is essential! On entering the park you need to head to one of the busier rides and get in your Standard FASTPASS® early. You can only use one Standard FASTPASS® every 2 hours or once a Standard FASTPASS® has been used. It is a good idea to plan your day around using your Standard FASTPASS® if you plan to focus your time on the rides around the park.
Park Re-entry
Disneyland® Paris used to use a stamp system to re-enter the park but this is not currently being used. So if you leave the park be sure to have your ticket handy so you can re-enter the park.
Getting tickets printed at the park
Forgotten to print your Disneyland Paris tickets? Don't worry, you can visit Donald's Desk and have them printed out for you at the park. It is advised that you always print tickets in advance as you may experience queues for getting tickets printed.
Park Maps
Get to grips with the layout of the parks so you can get a head start planning your trip and Standard FASTPASS® usage. Alternatively, you can use Disney's interactive online park map which is available here.
Park Guide with Parade and Show Times
Make sure you know what's going on in the parks in advance by reading through the online park guides.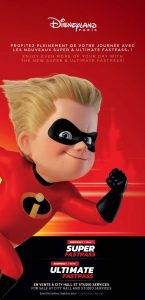 Disneyland Paris App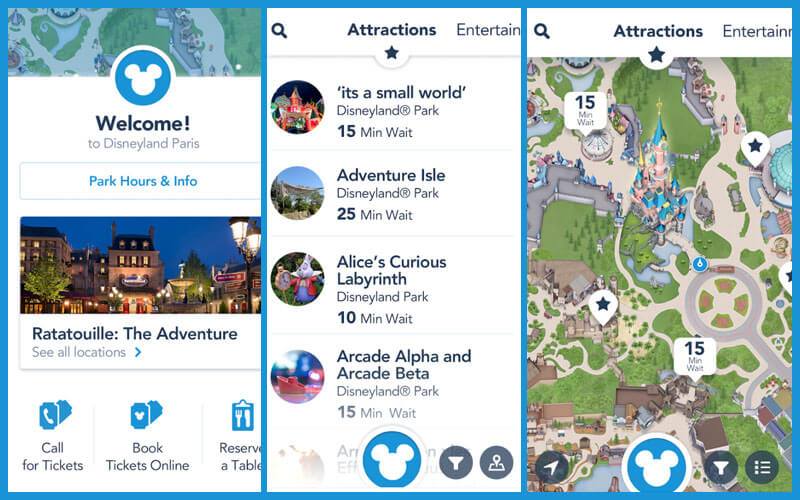 If you prefer a digital guide and resources then you can download the Disneyland Paris App, the app is available for Android and Apple iOS devices. With the app you can
See attraction wait times for Disneyland® Park and Walt Disney Studios® Park at a glance.
Find what you're looking for quickly with GPS-enabled maps that show your location and the attractions, restaurants, shops and more near you.
See daily schedules for parades and entertainment. Find park hours, accessibility information and descriptions of attractions and more.
Make your visit more magical with the Disneyland Paris mobile app! Download it before your next visit.
For more advice on how to plan your Disney trip head over to disneylandparisandyou for more great park tips and travel advice.
Rainy days at Disneyland Paris
Rainy days at Disney don't spoil the fun, there are tons of great indoor rides and attractions you can enjoy. Check out our favourite rainy day attractions in the video below.
Top 5 Disneyland Paris rides for thrillseekers
If you love rollercoasters then be sure to check out our top 5 Disneyland Paris ride for thrillseekers.
---
Keep an eye out for our regular posts about Disneyland® Paris like our 'Top 10 activities for under 8's at Disneyland® Paris'.
Don't forget to book park tickets through Picniq to save up to 36% on gate prices.