Beneath the twinkling lights so bright,
the festive spirit takes to flight,
with crafts and treats and gifts so right,
Christmas markets bring lots of delight!
The holiday season is always a magical time with festive lights, cosy gatherings and many Christmas markets to enjoy. As we look ahead to 2023, we're excited to explore some of the best Christmas markets across the UK. There's Christmas in the air from the bustling cities of London and Birmingham to the charming towns of Bath and Canterbury! Which one will you be heading to?
London Winter Market
📆2nd November – 26th December
📍Southbank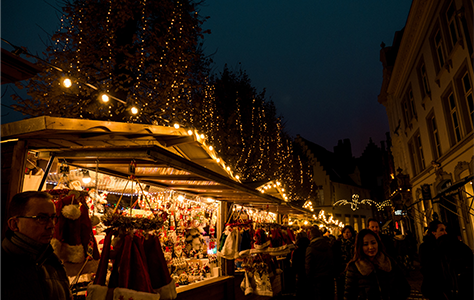 If you plan to visit London during the holiday season, you're in for a treat! The city is known for its spectacular Christmas market that beautifully captures the festive spirit. The Southbank Centre Winter Market is a popular destination that offers delicious food and products, famous for its festive atmosphere, mulled wine, and live entertainment. In short, London Southbank's Christmas market in 2023 is a must-visit if you want to experience the magic of the holiday season!
Winchester
📆17th November – 21st December
📍Winchester Cathedral
Winchester's Christmas market is stunning. This charming city is transformed into a winter wonderland with its picturesque streets adorned with twinkling lights and cheerful decorations. The Winchester Cathedral Christmas Market features over 100 wooden chalets selling unique gifts, festive food, and drinks. The market is set against the backdrop of the stunning cathedral, creating a magical atmosphere. There's also an outdoor ice rink, a vintage carousel, and live music to keep visitors entertained.
Cardiff
📆9th November – 23rd December
📍Castle Quarter
Cardiff is a lively city, which is amplified at Christmas when the market builds a delightful atmosphere. The market is set against the spectacular Cardiff Castle and offers an impressive 200 stalls selling memorable gifts, crafts and delicious food. Visitors can enjoy the usual Christmas delights while browsing the stalls. The market also features a children's favourite – Santa's Grotto, a funfair, and a range of live entertainment. It's a perfect place to experience the magic of the holiday season and soak up the atmosphere of Cardiff.
York
📆16th November – 22nd December
📍Parliament Street
York's Christmas market is a charming experience. The historic streets and buildings provide a stunning setting for the market's traditional huts, which offer a range of joyful treats and unique gifts. Visitors can enjoy mulled wine and hot chocolate while browsing the stalls, and there are plenty of opportunities to sample local foods and drinks. The market's highlight is the ice skating rink, surrounded by twinkling lights and Christmas decorations.
Chester
📆17th November – 21st December
📍Town Hall Square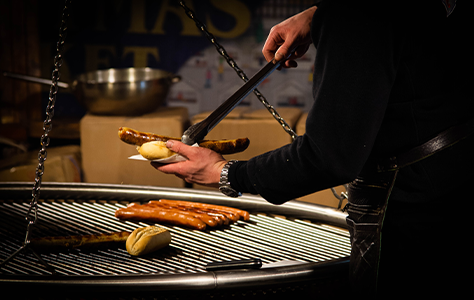 Chester's Christmas market is a delightful experience that attracts locals and visitors alike. The market is located in the heart of the city and offers a range of unique gifts. The wooden huts are beautifully decorated and stocked with various handmade crafts, jewellery and delicious food. Visitors can also enjoy the traditional carousel and the Victorian Helter Skelter, which adds to the festive atmosphere. The market is open every day, and it's a perfect place to soak up the magic of Christmas while enjoying the historic surroundings of Chester.
Frankfurt Christmas Market, Birmingham
📆2nd November – 24th December
📍Victoria Square and New Street
Welcome to the largest German Christmas market outside of Germany or Austria; it's a must-visit destination for anyone who wants to experience the authentic spirit of Christmas. At Birmingham's Frankfurt Christmas Market, you'll discover the city has come alive with a selection of tempting food, traditional gifts and an impressive music programme! Why not come and see what Birmingham has to offer? 
Glasgow's Winterfest
📆25th November – 4th January
📍St Enoch Square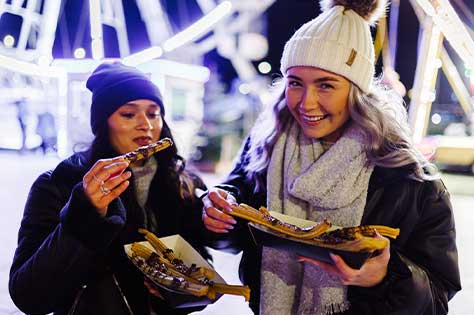 Glasgow is the perfect place to shop for Christmas gifts in the warm glow of the Christmas Spirit. The market is located in George Square, which is beautifully decorated with twinkling lights and a stunning Christmas tree. Visitors can enjoy live music performances, rides, and a vintage carousel, which is fantastic for the little ones. The market is open from mid-November to late December, and it's a perfect place to soak up the festive atmosphere in Glasgow. Glasgow has the fabulous 'Style Mile Christmas Carnival', which will add more sparkle and joy to your visit, as the procession moves through the city centre, bringing lots of cheer with the incredible outfits and props. 
Canterbury
📆10th November – 27th December
📍Whitefriars Gravel Walk
Canterbury's Christmas market is a charming and traditional experience. Located in the heart of the city, the market offers visitors the opportunity to browse wooden chalets selling a range of handmade crafts, and delicious food and drink. The market's highlight is the stunning location of the historic Canterbury Cathedral, which adds to the magical atmosphere. Visitors can also enjoy the traditional carousel, the ice rink, and live entertainment. Canterbury's Christmas market is a must-visit destination for anyone who wants to experience the magic of the holiday season in a charming and festive setting.
Blenheim Palace
📆17th November – 17th December
📍The Great Court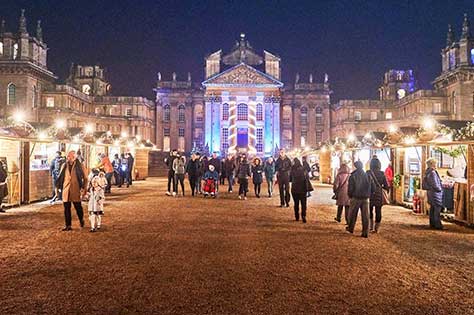 The iconic Blenheim Palace will host it's Christmas Market this year and you can expect a large range of exhibitors selling everything from handmade gifts to sweet treats. The building and grounds become a magical wonderland of Christmas decorations that are a beautiful sight! Visitors can explore the courtyard full of stalls, as well as the palace its self which will be decorated with garlands, glistening ornaments, ribbons, baubles, holly and mistletoe. There is also a magnificent light trail on the palace grounds so you can really make a whole day of this event if you stay until to sun sets to see all the wonderful lights come to life.
Bath
📆23rd November – 10th December
📍Guildhall Market
The streets of the beautiful city of Bath will once again be illuminated with gorgeous lights, displays and decorations for it's annual Christmas market. Soak up the seasonal atmosphere as you roam the streets of this magical winter wonderland and spot chalets nestled among Bath's historic buildings, and smells of mulled wine and roasted chestnuts fill the air. You'll find plenty of beautifully handmade gifts at the 150+ stalls so you certainly won't be coming home empty handed, and there will be so many exciting festive foods to try and take home for you to enjoy over Christmas.
Exeter
📆17th November – 17th December
📍Exeter Cathedral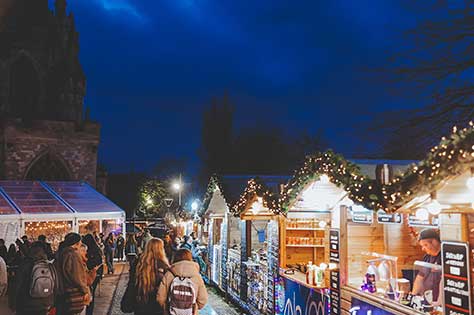 Devon's biggest Christmas market is a day to remember and make magical memories with friends and families. Discover 100+ chalets selling beautiful gifts and delicious festive food, as well as irresistible street food sweeping the streets with delicious divine smells, and bars lined around the area. There is also live festive entertainment to keep everyone happy through the evening, and while you're there be sure to make use of the free entry into Exeter Cathedral where you can see even more twinkling lights and a seasonal art installation.  
Belfast
📆18th November – 22nd December
📍City Hall
One of Irelands longest running and most popular Christmas markets is set to make its return year bringing a festive buzz to the beautiful city. Local food, craft and gift stalls will line the streets along with stunning decorations that light up the market. Over one million visitors are expected to visit during its few weeks, so its popularity should tell you how worthwhile this one is! The market is incredibly supportive of local businesses and has a real sense of community in the area, which is what Christmas is all about.
Edinburgh
📆17th November – 6th January
📍East Princes Street Gardens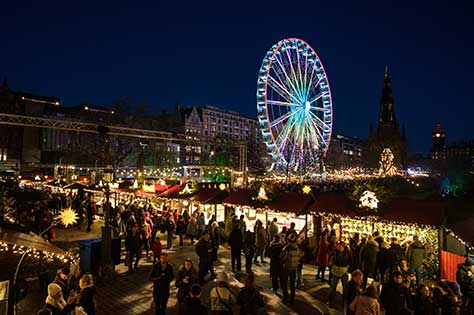 If you're planning a trip to Edinburgh then Christmas is 100% one of the best time to visit. Soak up the festive atmosphere that consumed the entire city with seasonal joy, and the iconic Christmas Market is a huge part of that. It's one of the cities most popular events year-round, and it truly illuminates this already beautiful city with an incredible display of decorations and quirky food and gift stalls. Enjoy traditions such as mulled wine to warm those cold hands, the smell of roasted chestnuts, as well as entertainment with live shows, ice skating, and fairground rides.
Leeds German Christmas Market
📆24th November – 22nd December
📍City Square
Returning after four years due to Covid19, this German inspired Christmas market was previously names as one of the best in the world, and rightfully so. The city is buzzing for its return with locals looking forward to seeing their home transformed into a wonderland of festivities, and tourists travelling from far and wide to experience. The German influence means incredible food, amazing smells, and bigger and better festivities. Explore unique gifts and crafts from local businesses, delicious snacks and treats, and get Christmas in full swing with the Millennium Square Ice Rink.
Liverpool
📆18th November – 24th December
📍St Georges Plateau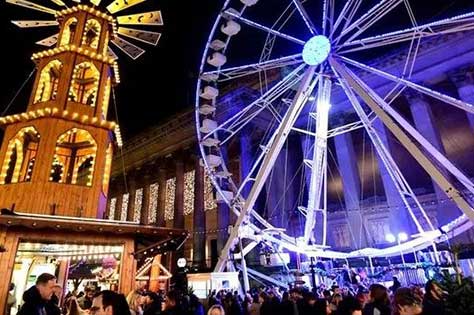 Liverpool is known for its theatre, music and comedy events with no lack of things to do. However, that is especially true during the Christmas period. It completely takes over the city and is certainly a special way to spend an evening with loved ones. Surrounded by impressive architecture of St Georges Hall, the stunning backdrop sets the tone for this huge event. There are 40+ unique food, craft, and gift stalls to explore with products from all over the world, and the two festive bars will satisfy any cravings for a cosy glass of mulled wine, cider, or hot chocolate. Little ones can met Santa in his grotto, and there are a selecti0n of fairground rides for extra festive thrills.
Southampton
📆16th November – 2nd Janaury
📍Above Bar
Shop 'til you drop and indulge in scrumptious festive treats at Southampton's traditional alpine market with more than 30 independent traders offering a range of gifts and treats. This year, entertainment is going to the next level with a light projection show, fairground rides and a Christmas Fun House perfect for families to enjoy together. Light pr0jections will run every 30 minutes illuminating the city with seasonal fun. The market als0 features one of the UK's tallest Ferris wheels! 
Nottingham Winter Wonderland
📆7th November – 31st December
📍Old Market Square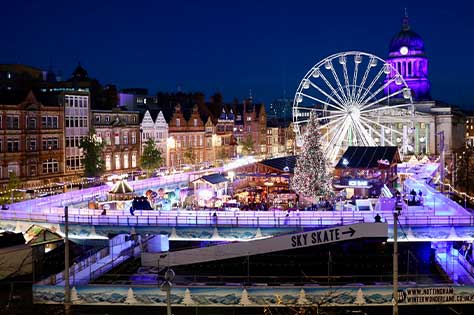 Skate through this enchanted Christmas wonderland of family adventures and beautiful sights. This market is a hub of festive food, entertainment and shopping, and it's absolutely huge! Expect delicious sweet and savory snacks, both street food and things to take home for Christmas, an abundance of rides and attractions such as a ferris wheel and toboggan slide, and a massive range of stalls to shop for Christmas gifts and souvenirs. Running all the way up until Christmas eve, you've got plenty of time to visit, and perhaps more than once as there's so much to see and do!
Manchester
📆10th November – 21st December
📍Multiple locations, city centre
Manchester's Christmas Markets are a collective of mini markets spread throughout the city centre. With a total of 225 stalls across several different locations, you might need more than once day to tackle all of the festivities! Their iconic hot chocolate mugs will be making a return so grab one while you have the chance, and there is no shortage of mouth-watering food you can get your hands on. The smells of festive street food linger through the streets drawing you in, and each mini-market has something new and exciting to offer from handmade gifts to unique local businesses.
Do you know any more fab and free activities? We'd really love to know! Someone else might love it, and really want to go! If you've got ideas, suggestions or reviews, you can shout all about it on whatever channel you choose!
Let's go on a Picniq! Follow us on Facebook, Twitter or tag us on Instagram using #PicniqUK! ❤