Summer is here and it's time for family fun,
Don't miss the special events they've only just begun.
We have festivals, tours and exclusive days out ,
These one of a kind adventures will be heaps of fun no doubt!
Red Panda Weekend – Paradise Wildlife Park, Hertfordshire
12th Aug 2017 – 13th Aug 2017
If you haven't seen these adorable creatures before then head to Paradise Wildlife Park over this weekend to see and learn all about them. There's going to be lots of fun activities for the family to enjoy. Find out more.
Summer Nights! – West Midlands Safari Park, Worcestershire
29th Jul 2017 – 3rd Sep 2017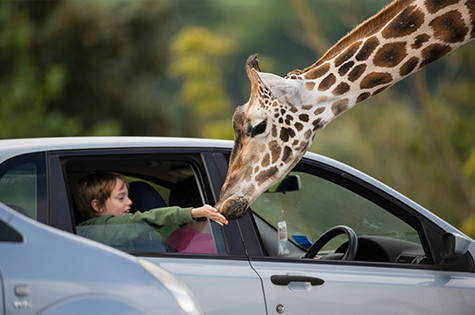 Just what do all the animals that call this park home get up to in the evenings? This Summer families can find out on a four mile evening safari as the park is opening up in the evening for the Summer only! Find out more.
Discover Zone Workshops – The Beatles Story, Liverpool
8th Aug 2017 – 28th Aug 2017
Kids will love these fun free workshops, where they can make their very own music inspired hanging mobile, listen to fun stories or create a piece of funky art. There is even a Bank Holiday quiz where all the family can test their Beatles knowledge. Find out more.
Oxygen Freejumping, Various Locations
5th-18th August
Kids will be jumping for joy after a visit to this brilliant indoor trampoline park! They'll get to bounce sky high in open jump sessions and burn off lots of excess energy! Find out more.
Kensington Palace Family Fantastical! –  Kensington Palace 
18th Aug 2017 – 20th Aug 2017
Adult – £12 Child – £7Under 5s – free
Tickets do not include entry to the palace (advance booking required)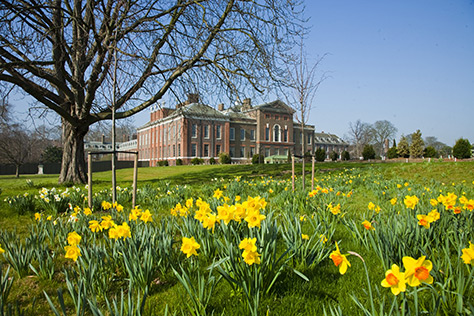 Once upon a time amazing performers and brilliant minds visited this palace to entertain the princesses that one lived there. Families can visit and be entertained watching the magnificent English National Ballet perform 'Sleeping Beauty' while the Science Museum will perform one of their fab shows guaranteeing plenty of fun and laughter! Find out more.
Zoorassic Park – ZSL London Zoo
22nd Jul 2017 – 3rd Sep 2017
A very exciting Summer awaits all the family as a new herd of animals are set to visit this zoo – dinosaurs! Families can lose themselves in a prehistoric world and meet moving monsters including the mighty Tyrannosaurus Rex. Kids can follow a fun trail and even dig for fossils. Find out more.
Bear Grylls Wild Survival Academy – ZSL Whipsnade Zoo, Dunstable
29th Jul 2017 – 3rd Sep 2017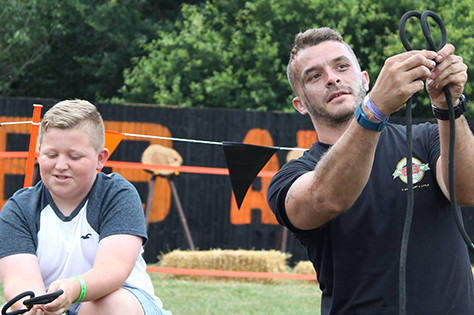 Kids will love joining in with this brilliant, exciting Summer Academy, where they can become real life explorers and learn survival skills, attempt challenges and have a go at an assault course! There will be live shows demonstrating how animals and humans can survive in extreme conditions. Find out more. 
Andy's Prehistoric Raps! – Lightwater Valley, Ripon, North Yorkshire
12th Aug 2017 – 13th Aug 2017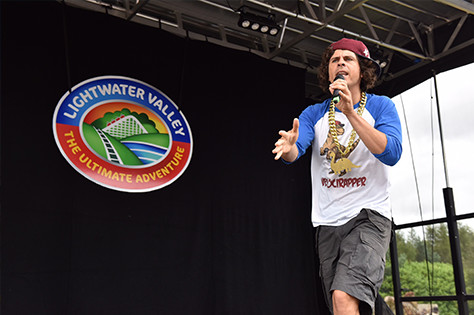 Popular presenter Andy Day from Cbeebies is appearing over this weekend in a live interactive performance with music, dancing including a zany dinosaur rap! Grown-ups are welcome to join with all the fun too! Find out more.
Bright Sparks: Science Weekend – Explosion! Museum of Naval Firepower, Gosport, Hampshire
5th Aug 2017 – 6th Aug 2017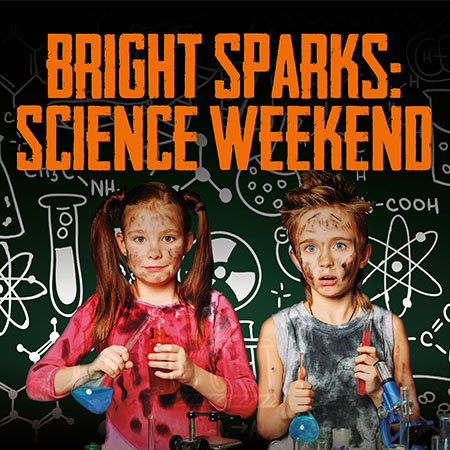 Get the kids booked into this fun weekend which is all about science! They will learn how to fire rockets, be wowed by fun pyrotechnics and have the chance to play in the Giant Bubble Zone. Find out more. 
Summer Holiday – Marwell Zoological Park, Winchester
26th Jul 2017 – 31st Aug 2017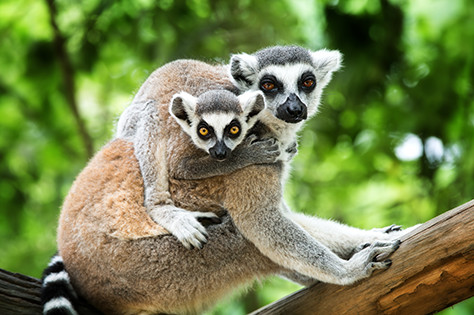 Visit the Lemur Walkthrough this Summer and see a special themed exhibit that will enlighten everyone about the evolution of lemurs! Have a selfie with a costumed character and follow an Explorer's Trail collecting stamps along the way. Find out more.
Jurassic Shark – Blue Reef Aquarium, Tynemouth, Tyne and Wear
22nd Jul 2017 – 4th Sep 2017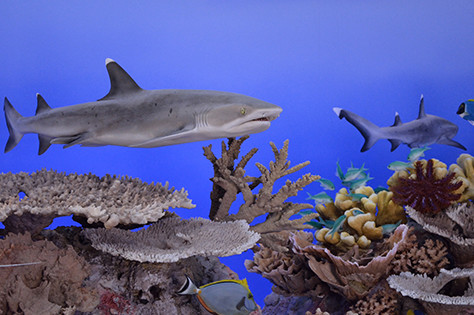 It's all about sharks this Summer so treat the kids to a visit to this great aquarium where they can find out interesting facts about these magnificent fish that lived from the time of the dinosaurs. Find out more.
Dinomania! – Bristol Zoo Gardens, Bristol
27th May 2017 – 3rd Sep 2017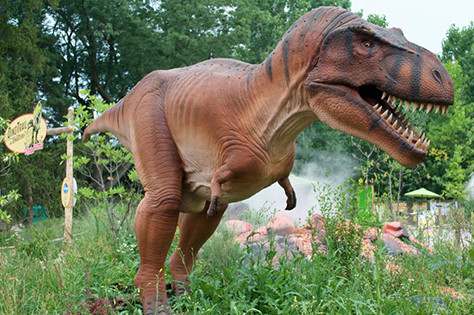 This magnificent dinosaur exhibition is the perfect entertainment for kids and it's at the Zoo gardens until September if you don't get chance over the half-term holiday! Follow the dino trail, dig for fossils and chat to experts who will be able to answer all your questions! Find out more.
Calke Explore – Calke Abbey, Derbyshire
8th Jul 2017 – 3rd Sep 2017
Every day of the school holidays kids can enjoy time outdoors and get close to nature in the brilliant outdoor adventure play area set in beautiful woodland. Find out more.
Octonauts Octo-Glow Explorers – Sea Life Centre, Great Yarmouth, Norfolk
5th Aug 2017 – 13th Aug 2017
Those intrepid guardians of marine life, the Octonauts, are bringing their mission to this wonderful sea life centre. The Octonauts are a team of quirky and courageous adventure heroes who dive into action whenever there is trouble under the sea. Find out how creatures hide from their predators using light deep in the ocean or how they actually talk to each other and attract their prey. There will be great interactive activities for the kids as well as Octo-Glow Explorer character meet and greet sessions. Find out more.
Amazing Animals! – Tropical Butterfly House, Wildlife and Falconry Centre, Sheffield
22nd Jul 2017 – 5th Sep 2017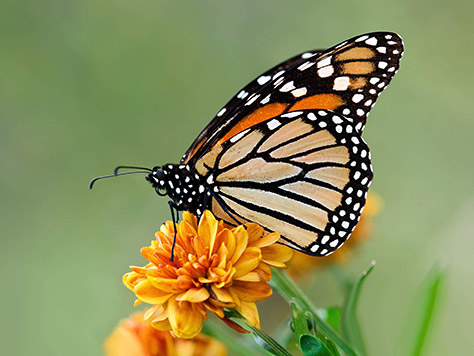 Over the Summer holidays treat the kids to a day out at the zoo for a special treat and they can find out which animals have superhero skills! They will get to meet some brilliant animals up close in daily encounters and whatever the weather there is plenty of fun on offer in the Craft Centre. Find out more.
The Great Brownsea Island Storybook Adventure Trail – Brownsea Island, Poole
4th Jul 2017 – 29th Oct 2017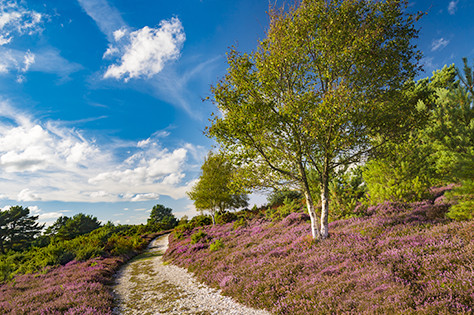 This beautiful island is a perfect place for a family day out but over the Summer holidays if you visit you can follow an exciting adventure trail, that will take you all around the island discovering new twists to old tales! Find out more.
The Gruffalo and Friends: The Art of Axel Scheffler Family Trail – Mottisfont Abbey & Garden, Hampshire
15th Jul 2017 – 3rd Sep 2017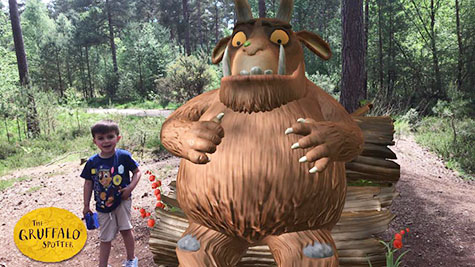 This Summer don't miss the opportunity to bring the family here to explore the wonderful grounds and follow a fun family trail looking out for the Gruffalo in his den! Along the way there are puzzles and activities to join in with as well as a Stick Man climbing area the kids will love! Find out more.
Dinosaur Adventure – Dereham, Norfolk
29th August -3rd September – Dippy's Summer Beach Party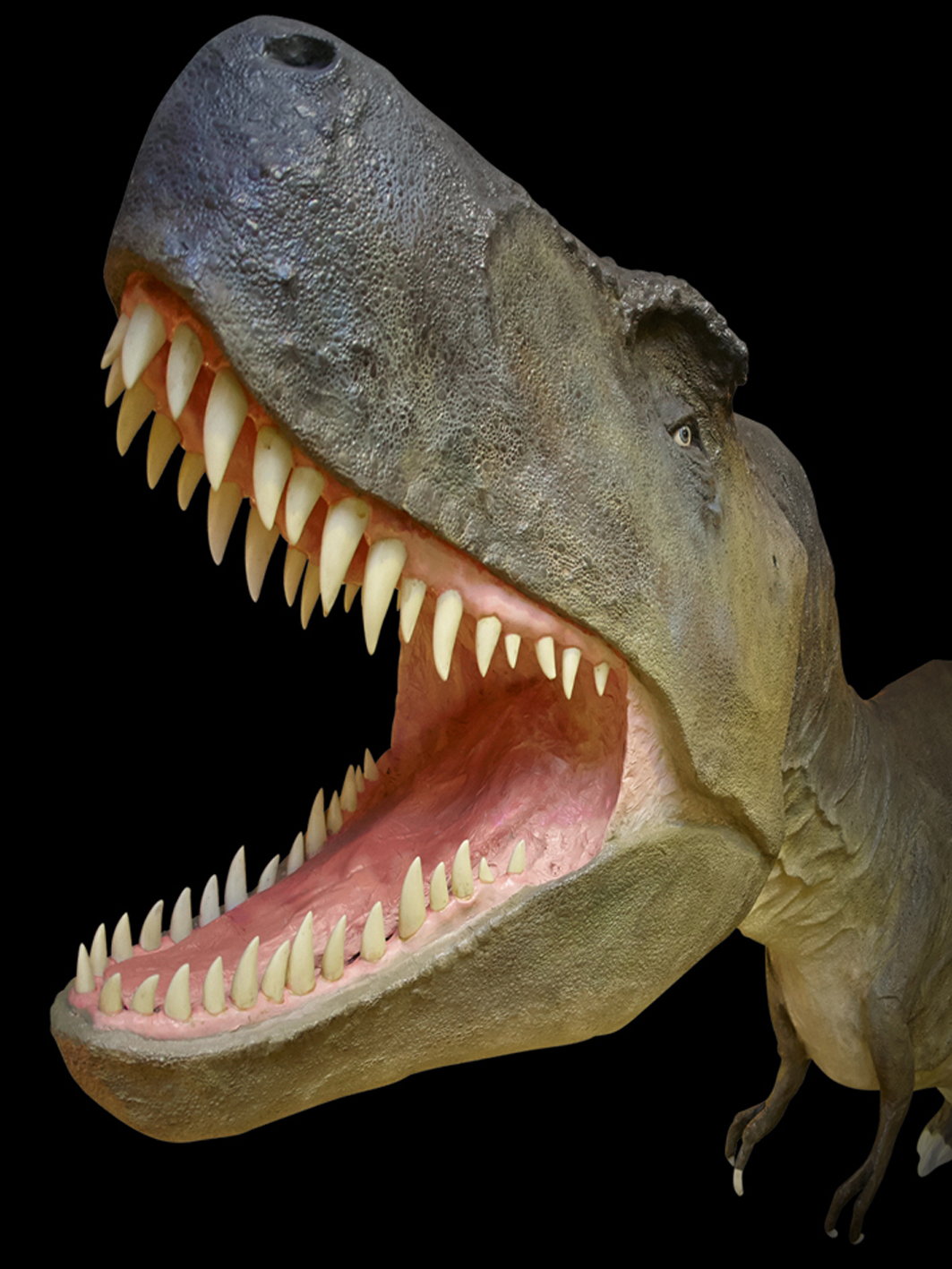 Hunt dinosaurs and unearth fossils at Dinosaur Adventure! Collect stamps as you walk along the trail to hunt down life sized replicas… for every one you find you'll earn a medal! Little dinos can head to the adventure playground to enjoy swinging, sliding and climbing. There's a separate area just for the under 5s and even a Fun Barn, Deer Park, crazy gold and more! This Summer from 29th August-3rd September grab a towel and bathing costume and bring the kids to enjoy this brilliant Splash Zone!Find out more.
Isle of Wight Steam Railway – Bembridge, Isle of Wight
3rd July-6th August – Summer Train Fun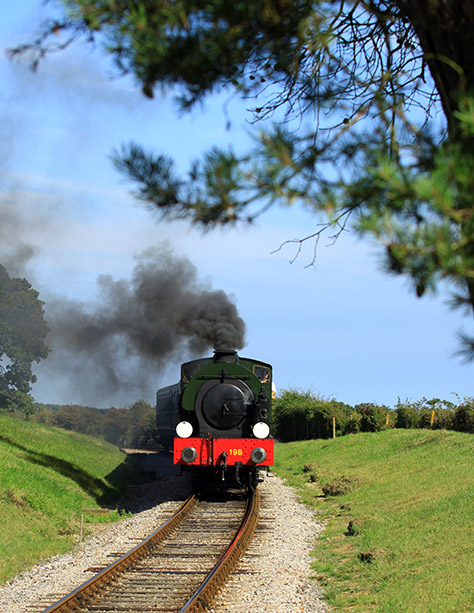 Step back in time to take a journey on this lovely steam train! With newly restored carriages, these locomotives are in immaculate condition and run along five miles of track running between Smallbrook Junction, through Ashely and Havenstreet to Wootton. There's even a children's play area, which includes a steam train climbing frame and much more. Over the Summer holidays this delightful railway has lots of family fun planned from a Victorian weekend to a visit from a travelling circus!Find out more.
Grand Pier – Weston Super Mare, Somerset
Saturday 2nd September – Fireworks at the Sea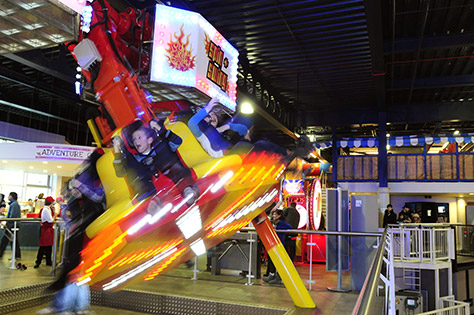 This iconic building, which has a fantastic large indoor amusements area, will leave you spoilt for choice! Including a selection of rides and attractions, such as the gentler 4D Cinema, soft play area, helter skelter and Britain's smallest roller coaster and so much more, this is fab family day out for all to enjoy. This summer come on down to the Grand Pier on Saturday 2nd September to see a spectacular display over the sea. You can buy a ticket from the Gift Shop or online and you can also get £2.50 off unlimited wristband rides with our Days Out Card! Find out more.
Winchester Science Centre – Winchester, Hampshire
 21st July – 4th September – Summer Events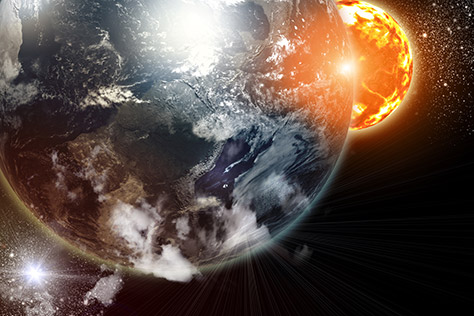 Budding little scientists will love getting to explore this fascinating museum, which has over 100 hands-on science exhibits for them to discover! The planetarium has shows that run almost everyday, you can get sucked in to a black hole, travel through the Solar System or even explore the human body. Over the Summer holidays from the 21st of July to the 4th of September there is a packed schedule of brilliant live shows and films as well as all the other amazing exhibits to explore. Find out more.
Chester Zoo – Chester, Cheshire
16th July-12th August – Summer Events
This family friendly zoo has lots of amazing critters for animal lovers to set their sights on, including elephants, big cats, monkeys and more! For curious minds, zookeepers will be giving fascinating daily talks on caring for the animals. Over the Summer holidays this brilliant zoo has lots of special events planned to entertain all the family! Kids can join in with a rangers training camp or World Snake Day as well as lots of other workshop and special themed days.Find out more.
Summer Living History –  Beaulieu National Motor Museum, House and Garden, Brockenhurst
22nd Jul 2017 – 3rd Sep 2017
Visit Beaulieu this Summer and explore over 800 years of history. Listen to special talks, watch falconry displays, play old fashioned games or follow a quiz trail. There will be Victorian music to listen to and Medieval monks to meet too! Find out more.
The Kettlewell Scarecrow Festival
12th August – 20th August 2017
Kettlewell Scarecrow Festival near Skipton, North Yorkshire, is one of the original and best in Britain. There will be loads of famous faces and comical characters for you and the kids to spot from Amy Winehouse to Adam Ant, from an Egyptian Pharoah to a Medieval Knight. Be sure to grab some delicious homemade cakes and other refreshments from the village hall. Don't miss out on this fantastic event this summer from 12th-20th August. Find out more.
Shark Trail – Royal Navy Submarine Museum, Portsmouth Historic Dockyard, Portsmouth
29th July – 3rd September 2017
Come and learn all about the Royal Navy as it is today and get an insight into what the future holds! Step on board historic ships such as HMS Victory and HMS Warrior 1860. This Summer, come and follow a fun family trail searching for hidden fins and beady shark eyes that will take you all around this Dockyard, where you will see some awesome ships from the Navy's history. Find out more.
Paw Patrol – Marshall and Skye! – Adventure Wonderland, Christchurch, Dorset
17th Aug 2017
For one fun filled day only, bring the kids to meet those two cheeky pups, Chase and Marshall! They will be making special appearances throughout the day so don't forget to bring a camera! Find out more. 
Wollaton Hall and Deer Park – Nottingham, Nottinghamshire
Dinosaurs of China- 1st July – 29th October
This amazing building, home to the National History Museum, has a collection of three quarters of a million specimens that make up its zoology, geology, and botany collections! You'll also find Nottingham's Industrial Museum in it's outbuildings. Little explorers can take walk around the beautiful grounds or even a segway tour! This summer from 1st July to 29th October the Dinosaurs of China exhibition will be visiting Europe for the very first time and is definitely worth taking all the dino enthusiasts to in the family! Included are fossils and other specimens that have not been seen outside of Asia and will tell the fascinating story of how these prehistoric animals evolved into some of the creatures that live with us today. Find out more.
Gloworm Festival – Worksop, Nottinghamshire
Saturday 19th August – Sunday 20th August 2017
Take the whole family down to the Gloworm Festival this August for a fun-packed weekend of music, art, workshops and loads more to keep you entertained! The festival is primarily a family festival and there is loads to do for kids such as Pizza Making Parties, Dance Workshops, Paint A Car, Comedy Magicians, Donkey Rides and so much more! The kids will also have a chance to have Meet & Greets with dinosaur Rex the T-Rex, the Chuckle Brothers, Postman Pat and Jess the Cat!  Find out more.
Pantaloons A Midsummer Night's Dream – Canons Ashby,  Daventry, Northamptonshire
5th August 2017: A Midsummer Night's Dream
19th August & 2nd September: Bat Walks
Little historians will love this medieval priory, house and gardens, which dates back to 1790, full of beautiful objects to admire including tapestries and antiques. Little ones can even complete a quiz as they take in the amazing grounds! On the 19th of August and the 2nd of September come join our friendly bat experts on a guided walk around Canons Ashby's grounds in a search for our favourite flying mammals. This Summer on the 5th of August, the Pantaloons make their much-anticipated return to Shakespeare with the timeless comedy A Midsummer Night's Dream – told, as ever, in their own distinctive and anarchic style. Don't miss this fully family-friendly open-air Shakespeare theatre performance! Bring a rug and a picnic to relax with the whole family as Puck and his musical fairy band tell a tale of lovers, mechanicals, and magical mayhem. . Find out more.
FIND OUT MORE AMAZING EVENTS NEAR YOU IN OUR WEBSITE HERE!
What have you been up to? We'd really love to know! Someone else might love it, and really want to go! If you've got ideas, suggestions or reviews, you can shout all about it on whatever channel you choose!
Lets go on a Picniq! Follow us on Facebook, Twitter or tag us on Instagram using #PicniqUK! ❤️