If it's raining and pouring and there's no sign of sun,
Head to one of these indoor attractions that are really lots of fun!
Let's go trampolining, painting and even bowling too,
You won't get bored with all of this fun that's waiting for you!
 Oxygen Freejumping, Multiple Locations
(London, Derby, Leeds, Manchester, Southampton, Wigan and now Croydon!)

Kids will love a visit to this brilliant indoor trampoline park, where they can bounce sky high in open jump sessions and burn off lots of excess energy! There are soft walls surrounding over a hundred trampolines and lots of trained staff available to assist. Book here.
The London Bridge Experience, London
Perfect for older children, explore some gruesome horrible history in this fantastic attraction, where you will see, hear, smell and feel your way through historic London. Just try not to become one of Jack the Ripper's victims! One of the best attractions for educating the kids without them realising because they'll be having so much fun! Buy tickets here.
Teddy Bear Museum; Dorchester
Visit this super cute museum and meet Edward Bear and his family of human-sized teddy bears. You'll get to see some really old teddies and learn about how they've changed to look like the modern television stars of today. You'll be treated to one-of-a-kind bears, antique bears, modern collectables and even famous bears! Plus, there is also a teddy bear shop so you can take a new addition home with you. Find out more.
KidZania London
The kids imaginations will run wild as they try adult life in a child sized city. They can test out real jobs ranging from firefighting to banking. As they 'work' they will earn money and then they'll have to decide how to spend it, the money savvy could even open a deposit account at the KidZania bank. Buy tickets here.
Ripley's Believe It or Not! London
With over 700 astonishing exhibits, galleries and interactive experiences spanning across 6 floors, Ripley's Believe It or Not! London celebrates the weird, wonderful and bizarre in all its forms. Will you and your little ones dare to venture into Ripley's Marvellous Mirror Maze and defeat the Impossible Laser Race? Buy tickets here. 
AirSpace Trampoline Park, Glasgow/ Wolverhampton/Stevenage
Spend a session bouncing, flipping and jumping at Air Space! This brand new attraction has over 100 interconnected trampolines all waiting for you to spring about on. As well as freestyle sessions you can join in with games such as dodgeball, football and basketball – just bouncier! Find out more.
The Tank Museum; Bovington, Wareham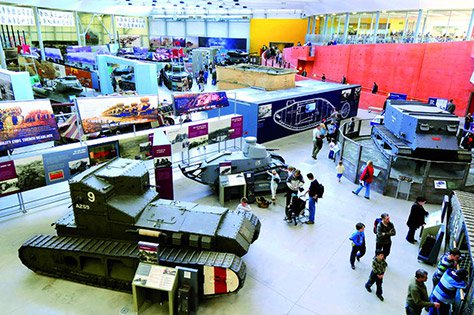 For a fascinating family day out for the family The Tank Museum houses the world's best collection of tanks dated from 1915 to the present day! Learn all about the history of tanks, how they changed warfare, how they were used in battle and advances in tank engineering. Find out more.
The Beatles Story; Liverpool
If your children are fans of the fab four then this is the place to go, as there is a Discovery Zone with regular workshops as well as interactive activities to entertain the little ones. There is also a specific family friendly version of the audio guide so everyone can hear the story of how one of the world's most famous bands came to be. Buy tickets here.
Oceanarium; Bournemouth
Take a trip to the seafront in Bournemouth, which is home to the fantastic Oceanarium. Don't miss the dark abyss section and the seriously cool underwater tunnel where the magnificent fish swim round you. With over 150 different species of fish, from sharks to stingrays, you will be learning something new the whole way round! Find out more.
 Poole Pottery
Absolutely perfect for a miserable rainy day, bring the kids along to this famous pottery studio where they can get creative making their very own masterpieces as well as watching the prosessionals working in the studio. There are a range of items that you can choose to paint including mugs, plates, money and keepsake boxes. Find out more.
The Dinosaur Museum; Dorchester
Discover real fossils, dinosaur bones and life size models at this hands on museum. Are your little ones brave enough to touch the T-Rex?! Find out more.
Russell-Cotes Art Gallery & Museum; Bournemouth
This museum was once a Birthday present from Merton Russell-Cotes to his wife. A sea side villa full of history filled with beautiful objects from their travels around the world. It is as if the house has been locked away in time and never changed. Now you can take the family and enjoy what they would have many years ago as well as a number of temporary art exhibitions. Find out more.
Weymouth SEA LIFE Adventure Park and Tower
A great indoor attraction with plenty of water, you'll enter an underwater adventure with over 1,000 sea creatures to admire. Look out for the penguins, sharks, crocodiles, otters and hundreds of fish! Don't miss the spectacular Ocean Tunnel which showcases endangered green sea turtles, and be sure to head along to the fun talks and feed shows throughout the day. Find out more.
Monkey Madness; Christchurch
If you're feeling a sense of 'cabin fever' on a wet rainy day then I thoroughly recommend a trip to Monkey Madness where the kids can burn off some excess energy! They have 2 playframes, one for the under 4's and the huge main frame with all the slides and obstacles to keep the kids entertained for hours. Find out more.
Science Museum, London
Free Admission (although there may be a small charge for some exhibitions within the museum)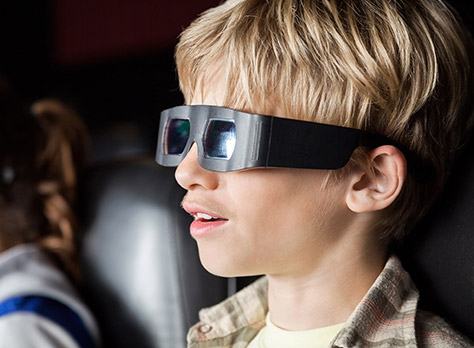 This museum is sure to provide an action packed educational day out for all. Explore space and see a piece of the moon, and get your adrenaline pumping in the flight simulator. Visit The Garden which is an interactive gallery especially created for the little ones where they can explore light and sound, as well as water and construction. Find out more.
The British Museum, London
Free Admission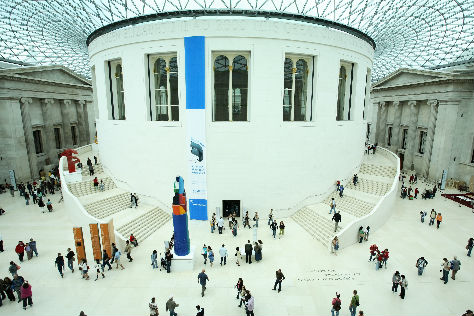 For a fascinating day out, take the family to the British Museum. You'll see some wonderful items and exhibits, both temporary and permanent. You'll see displays on different aspects of art, culture and history plus it's great for school kids and could even help with some of their studies!  Some of the most exciting exhibitions include the famous mummies from Ancient Egypt and the Rosetta Stone! Find out more.
The Natural History Museum, London
Free Admission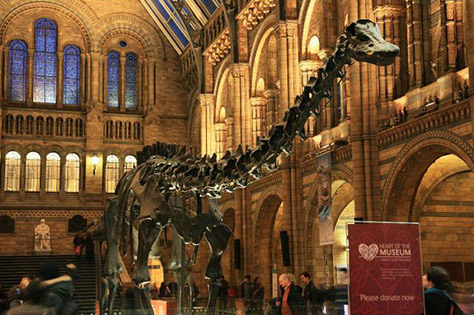 If you've got a budding Attenborough on your hands then they will love this museum! As you walk into the huge gallery you'll be greeted by a roaring T.Rex, there are so many brilliant exhibitions and displays from Dinosaurs to the Blue Whale there is plenty to look at here! Find out more.
Bond in Motion; Covent Garden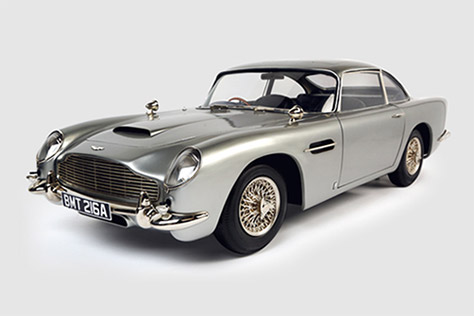 If your kids are 007 fans, you must add this to your places to visit list! Go to Covent Garden and see some of Bond's most iconic vehicles along with the actual props, gadgets and costumes used in the films. There is a large exhibition dedicated to Spectre as it's the latest film. Buy tickets here.
Geffrye Museum
Free Admission
This fascinating museum shows how middle class homes and gardens have changed over the last 400 years through exciting displays. You will walk through period rooms from the 17th to 20th Centuries and learn how designs have adapted to the modern living of today. Do check the website as they hold fab workshops for children and under 5's including rhyme time, craft, baking and storytelling! Find out more.
Hamley's Toy Shop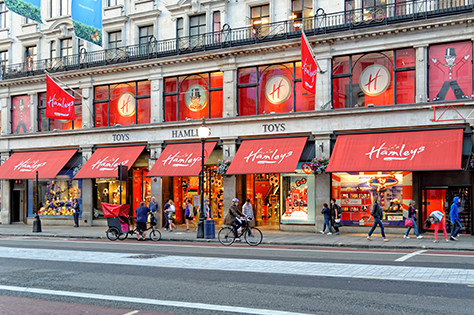 Make a day of visiting London's oldest and most loved toy shop! Kids and adults alike will be amazed at the many levels of toy departments, demonstrations and activities. Lots of events take place during the school holidays, so make sure to keep an eye on their listings coming soon! Find out more.
Illuminasia; Blackpool
Wonder at the colourful and magical visual experience that these beautiful large scale lanterns have created. Will you want to explore the illuminated wonder of 'The Deep', the underwater themed zone or head straight to 'The Land of The Giants' where you will be the one left feeling the size of an ant? Find out more.
Thinktank Science Museum; Birmingham
Inquisitive young minds can discover the past, investigate the present and find the future. Don't miss visiting the Planetarium that shows fantastic tours of the night sky and takes you on a trip around our vast solar system. Find out more.

Deep Sea World; Fife, Scotland
What better way to beat the rain than to take the kids underwater at Scotland's Deep Sea World. The kids will enjoy exploring over 100 meters of incredible creatures including starfish, catfish and even eels! Find out more.
Manchester United Museum & Tour; Old Trafford, Manchester
Treat your little Red Devil to an unforgettable day out at the Manchester United Museum and Tour. Learn all about one of the biggest football clubs in the world and follow in the footsteps of your favourite player as you walk out from the player's tunnel. Find out more.

Bowling – Various Nationwide Locations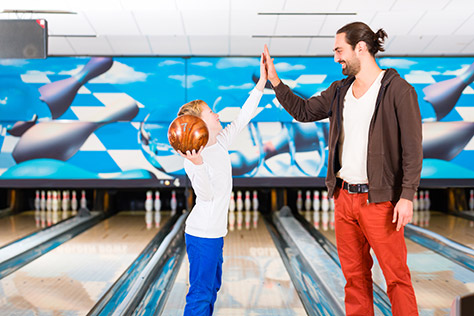 Always a family favourite and a perfect activity whatever the weather! At almost all bowling alleys they have ramps and lighter bowling balls enabling even the little ones to have a go! With arcade games and other things to keeps the kids amused it's a good way to spend a day. Find out more.

Snozone; Milton Keynes
If you are an accomplished skier or a complete beginner, this is the place for you to enjoy real snow whatever the weather. There are two main slopes for recreational skiing and boarding, plus a dedicated lesson slope. They also run Snocamps for the kids in the holidays and host birthday parties too. Find out more.

Torquay's Dinosaur World; Torquay, Devon
With lots of hands on exhibits for you to touch (are you brave enough to grab the Triceratops by the horns?!) plus full sized and scale models of dinosaurs, this is a great place to learn about these prehistoric creatures and see incredible fossils. Find out more.

What have you been up to? We'd really love to know! Someone else might love it, and really want to go! If you've got ideas, suggestions or reviews, you can shout all about it on whatever channel you choose!
Lets go on a Picniq! Follow us on Facebook, Twitter or tag us on Instagram using #PicniqUK! ❤️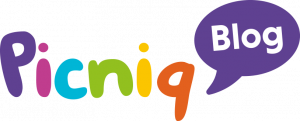 Comments
comments